Build Excitement To Christmas
Opening 25 Daily Gifts To Build A Magical Christmas Village
---
Join In The Joy Of The Holiday Season
Be transported to the North Pole for festive fun in the build-up to Christmas.
Celebrate with 25 days of exciting surprises! Open a new present every day and discover what's inside. Is it Santa's Workshop, the Village Christmas Tree, or possibly even a train? Open the presents and find out!
Santa's Village will fascinate you with its traditions, its vibrant street life and glorious architecture, all brought to life on your screen with our gorgeous art, animation and music.
You'll find yourself surrounded by amazing details, from the "flying" reindeer, the mischievous elves and their jolly snowmen, and snow-covered buildings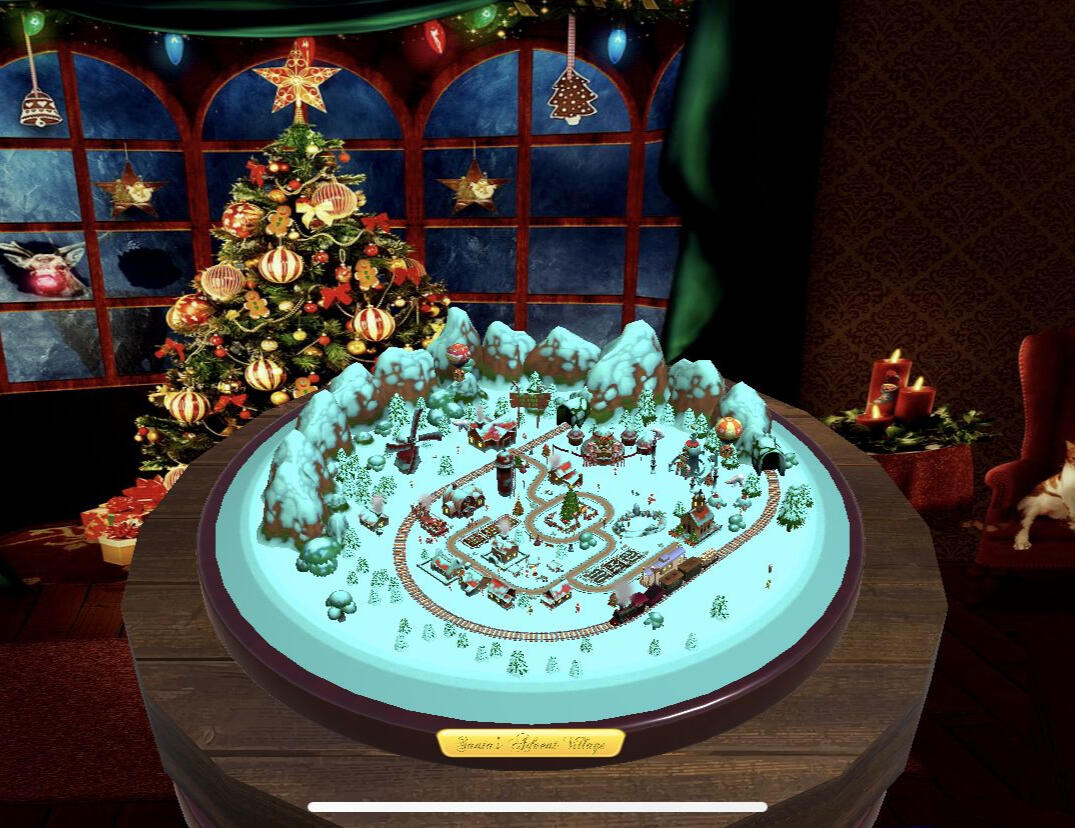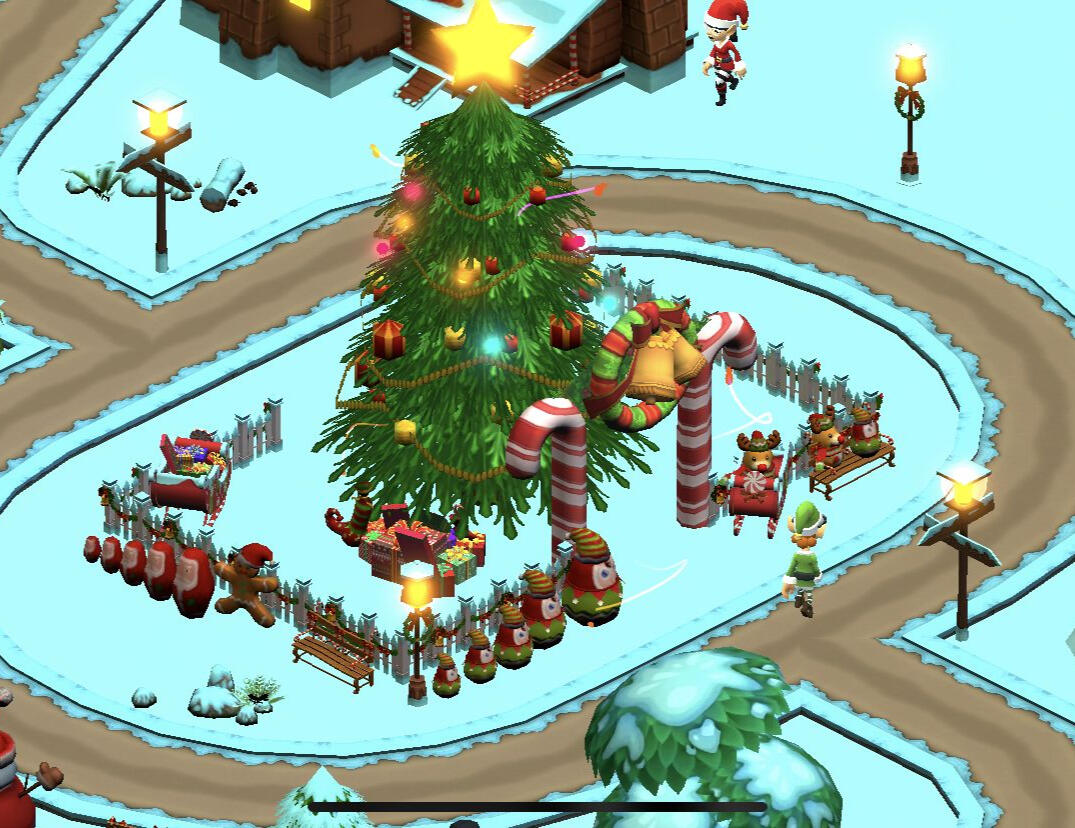 What is the Village Advent Calendar?
● A beautiful scene reveals a gift box to open for every day of December to Christmas Day.
● A selection of fun gifts are available anytime and the main scene itself is also full of unexpected surprises, gradually becoming more colourful and festive as the big day draws near.
● FREE to download and open several presents. Unlock the rest of the presents by watching video ads, sharing the app or in-app purchases.
● Runs on most Apple and Android devices.
Offers endless fascination for all ages.
Build Your Own Merry Village
Including:
● Buildings such as Santa's Workshop, church, windmill, barn, elf quarters and more
● Characters such as cheeky elves, cute animals, maybe even Santa
● Vehicles such as trains, balloons, sleighs
● Welcoming Light spills from every window, and evergreens sparkle with coloured lights
● Sounds of Christmas music, elves & animal playing
● Finishing touches such as mountains, falling snow, countdown clock, handsome wood-toned base, a gleaming title plaque.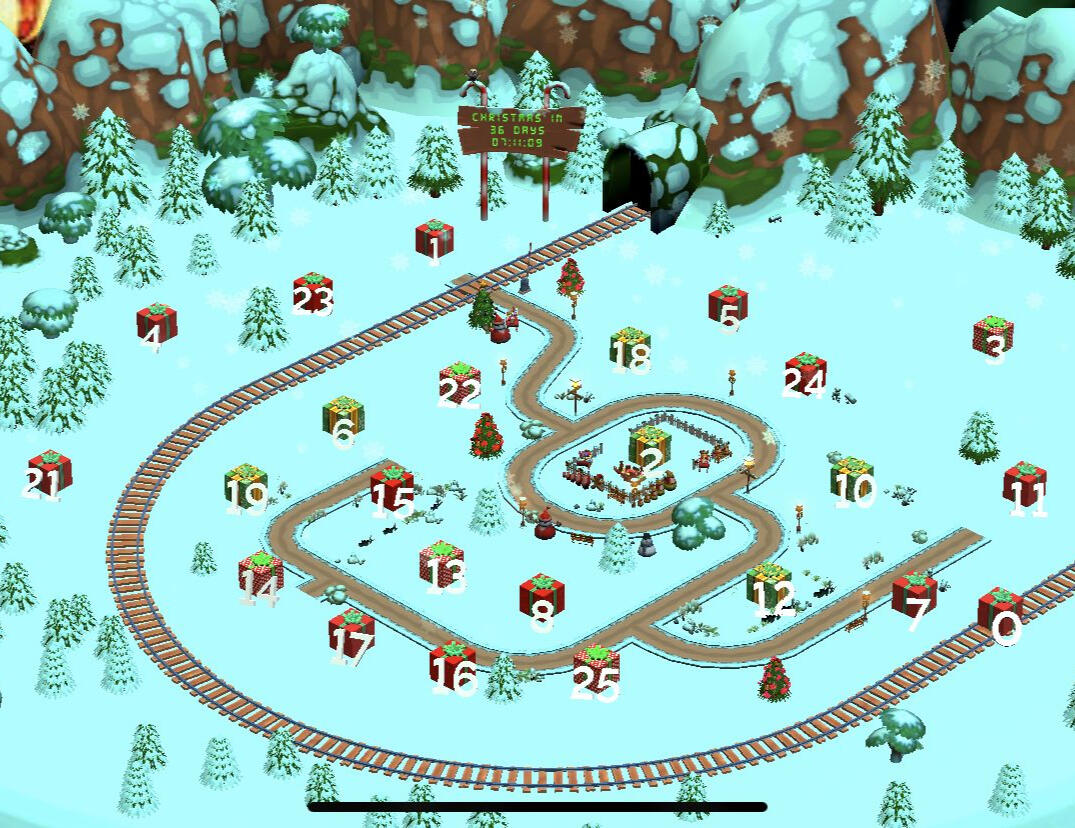 Easily Gift To Family & Friends
Give the app for less than the price of a card and postage.
● Visit the App's Gift Store and send a pack of keys via text message or email.
● Each key will open one gift box.
● Young and mature alike will enjoy getting a little treat or surprise every day leading up to Christmas.
---
Frequently Asked Questions
How do I use the code?
If you have an 8 digit/letter code (eg ABCD12EF) given to you, you can redeem it by clicking the green button top left, then the red 'Redeem' button bottom right and enter the code.
This will add keys to your key count. Each key will open 1 gift box. If you are still having problems, restart the app or if you dont know how to do that restart your device.
How do I gift to someone?
Click the green button at top left of the app screen.
Buy Key Packs of 50, 100 or 200.
50 keys will unlock all presents for one person's device (25 numbered boxes and 25 unnumbered).
After the purchase is complete. Click the 'Send' button. And follow the steps.
How do I use the app?
- Tap each gift box multiple times to open and build the materials inside into something special.
- Unnumbered gifts can be opened at any time. Numbered gifts can only be opened on or after the corresponding day in December (ie Gift 1 on or after December 1).
- One key is required to open each gift box. Keys can be obtained by watching a video advert, sharing the app or in-app purchases.
Why didnt my key count update after purchase?
Sometimes a restart of the app is required. Restart your device if you dont know how to restart the app. When you open the app again, a 'Loading...' screen will appear and after a few seconds a screen confirming your key pack purchase will appear.
---
---
Privacy Policy
Effective Date: 25th May, 2018Thank you for playing our games!This Privacy Policy describes:
- The ways we collect personal data about you and why we do so
- How we use your personal data, and
- The choices you have about your personal data.This Privacy Policy applies to Advent Village's games, websites and related services, which we here collectively call the Service. We may periodically update this Privacy Policy by posting a new version on AdventVillage.com. If we make any material changes, we will notify you by posting a notice in the Service prior to the change becoming effective. Your continued use of the Service after the effective date will be subject to the new Privacy Policy.CONTACT US
If you have questions about data protection, or if you have any requests for resolving issues with your personal data, we encourage you to primarily contact us through the game so we can reply to you more quickly.Name of the controller: Advent Village
Address: 70 Bosun Pde, Ashmore, Australia
Email: VillageAdventCalendar@gmail.comTHE DATA WE COLLECT
Data you provide us.
Contact information (such as name and email address)
Player name and password
Profile information (such as profile photo)
Your messages to the Service (such as chat logs and player support tickets)
Other data you choose to give us (such as data to identify a lost account)
Data we collect automatically.
Data about your account and game progress
Your IP address and mobile device identifiers (such as your device ID, advertising ID, MAC address, IMEI)
Data about your device, such as device name and operating system, browser type and language
Data we collect with cookies and similar technologies (see more below)
General location data
Precise geo-location data (GPS, with your consent)
Data about your use of the Service, such as gameplay data and your interactions with other players inside the Service
In most cases, we also create a specific ID for you when you use the Service.Data we collect from our partners.
Data we receive if you link a third party tool with the Service (such as Facebook, WeChat or Google)
Demographic data (such as to determine the coarse location of your IP address)
Data to fight fraud (such as refund abuse in games or click fraud in advertising)
Data from platforms that the games run on (such as to verify payment)
Data for advertising and analytics purposes, so we can provide you a better Service
WHY DO WE COLLECT YOUR DATA
To make the Service work.
To perform the contract, we process data necessary toCreate accounts and allow you to play our games and use our Service
Operate the Service
Verify and confirm payments
Provide and deliver products and services you request
Send you Service-related communications
To make the Service more suitable for our players.
To provide a great Service to our players, we have a legitimate interest to collect and process necessary data toUpdate and develop player profiles
Develop and improve the Service and player experience
Manage our relationship with you
Provide social features as part of the Service
Customize your Service experience
Respond to your comments and questions and provide player support
Provide you offers in the Service as well as in other websites and services, and by email
Send you related information, such as updates, security alerts, and support messages
Enable you to communicate with other players
To show personalized advertisements.
To show you personalized advertisements in the Service as well as in other websites and services (including email) we have a legitimate interest to process necessary data toTrack the content you access in connection with the Service and your online behavior
Deliver, target and improve our advertising and the Service
For information on how to opt-out from personalized advertisements, see section 'Your rights and options' below.To keep the Service safe and fair.
Ensuring a level playing field in the Service is a top priority for us. For more information on our acceptable use policy, see the Terms of Service.In order to keep the Service and its social features safe and fair, to fight fraud and ensure acceptable use otherwise, we have a legitimate interest to process necessary data toAnalyze and monitor use of the Service and its social features
Moderate chats either automatically or manually
Take action against fraudulent or misbehaving players
To analyze, profile, and segment.
In all of the above cases and purposes, we may analyze, profile and segment all collected data.With your consent.
With your consent, we may process your data for additional purposes, such as using your GPS location to show you local events.WHO CAN SEE YOUR DATA
Apart from Us, your data can be accessed by others in the following situations:OTHER PLAYERS AND USERS.
Social features are a core component of our games. Other players and users may, for example, see your profile data, in-game activities and read the messages you have posted.PARTNERS WORKING FOR US.
We have partners to perform services for us. These partners process your data only at and according to Our instructions to provide the Service, such as hosting, player support, advertising, analytics and fraud prevention.Other companies and public authorities.
In order to combat fraud and illegal activity, we may exchange data with other companies and organizations and provide it to public authorities in response to lawful requests.We may also disclose your data based on your consent, to comply with the law or to protect the rights, property or safety of us, our players or others.Advertising and Social Media partners.
The Service includes features from our partners, such as social media interaction tools and in-game advertising. A list of these partners is available at adventvillage.com/partner-opt-out. These partners may access your data and operate under their own privacy policies. We encourage you to check their privacy policies to learn more about their data processing practices.INTERNATIONAL DATA TRANSFERS
Our Service is global by nature and your data can therefore be transferred to anywhere in the world. Because different countries may have different data protection laws than your own country, we take steps to ensure adequate safeguards are in place to protect your data as explained in this Policy. Adequate safeguards that our partners may use include standard contractual clauses approved by EU Commission and the Privacy Shield certification in case of transfers to the USA.YOUR RIGHTS AND OPTIONS
Opt-out of marketing emails and other direct marketing.
You may opt-out of receiving promotional communications, such as marketing emails from us by following the instructions in such communications.Opt-out of targeted advertising.
You can opt-out of interest-based advertising on mobile applications by checking the privacy settings of your Android or iOS device and selecting "limit ad tracking" (Apple iOS) or "opt-out of interest based ads" (Android). For more information, see also: adventvillage.com/partner-opt-out.For personalized in-game offers opt-out, you can use the options provided in the game settings.Access the personal data we hold about you.
If you request, we will provide you a copy of your personal data in an electronic format.Your other rights.
You also have the right to correct your data, have your data deleted, object how we use or share your data, and restrict how we use or share your data. You can always withdraw your consent, for example by turning off GPS location sharing in your mobile device settings.We will respond to all requests within a reasonable timeframe. If you have an unresolved privacy or data use concern that we have not addressed satisfactorily, please contact our U.S.-based third-party dispute resolution provider (free of charge). You may also contact your local data protection authority within the European Economic Area for unresolved complaints.COOKIES AND SIMILAR TECHNOLOGIES
Like most online services, we and our partners use cookies and similar technologies to provide and personalize the Service, analyse use, target advertisements and prevent fraud. You can disable cookies in your browser settings, but some parts of the Service may then not function properly.HOW DO WE PROTECT YOUR DATA
Security Safeguards.
In order to help ensure a secure and safe player experience, we are continuously developing and implementing administrative, technical and physical security measures to protect your data from unauthorized access or against loss, misuse or alteration.Data retention.
We retain your data for as long as your account is active or as needed to provide you the Service. We will for example periodically de-identify unused game accounts and we regularly review and de-identify unnecessary data.
Note that if you ask us to remove your personal data, we will retain your data as necessary for our legitimate business interests, such as to comply with our legal obligations, resolve disputes, and enforce our agreements.AGE LIMITS
We do not knowingly collect or solicit personal data about or direct or target interest based advertising to anyone under the age of 13 or knowingly allow such persons to use our Services. If you are under 13, please do not send any data about yourself to us, including your name, address, telephone number, or email address. No one under the age of 13 may provide any personal data. If we learn that we have collected personal data about a child under age 13, we will delete that data as quickly as possible. If you believe that we might have any data from or about a child under the age of 13, please contact us.
---
Terms Of Service
Effective Date: August 1, 2017The terms of this agreement ("Terms of Service") govern the relationship between you and Graeme Cox, a software developer having its office at , (hereinafter "Advent Village", "Us" or "We") regarding your use of Advent Village's games, websites and related services (the "Service"). Use of the Service is also governed by Advent Village's Privacy Policy and other relevant policies, which are incorporated herein by reference.Before accessing or using the Service, including browsing any Advent Village website or accessing a game, you must agree to these Terms of Service and the Privacy Policy. You may also be required to register an account on the Service (an "Account"). By registering for an Account or otherwise using the Service, you represent that you are age 13 or older. If you are between the ages of 13 and 17, you represent that your legal guardian has reviewed and agreed to these Terms. If you access the Service from a Social Networking Site ("SNS"), such as Facebook or Google+, you shall comply with its terms of service/use as well as these Terms of Service.BY INSTALLING, USING OR OTHERWISE ACCESSING THE SERVICE, YOU AGREE TO THESE TERMS OF SERVICE. IF YOU DO NOT AGREE TO THESE TERMS OF SERVICE, PLEASE DO NOT INSTALL, USE OR OTHERWISE ACCESS THE SERVICE. USE OF THE SERVICE IS VOID WHERE PROHIBITED.Advent Village reserves the right, at its discretion, to change, modify, add or remove portions of these Terms of Service, its Privacy Policy and other relevant Advent Village policies at any time by posting the amended terms on the Advent Village Service. You will be deemed to have accepted such changes by continuing to use the Service. If at any point you do not agree to any portion of the then-current version of our Terms of Service, the Advent Village Privacy Policy, or any other Advent Village policy, rules or codes of conduct relating to your use of the Service, your license to use the Service shall immediately terminate, and you must immediately stop using the Service.1. License1.1. Grant of a Limited License to Use the ServiceSubject to your agreement and continuing compliance with these Terms of Service and any other relevant Advent Village policies, Advent Village grants you a non-exclusive, non-transferable, non-sublicensable, revocable and limited license to access and use the Service for your own non-commercial entertainment purposes. You agree not to use the Service for any other purpose.The following restrictions apply to the use of the Service:You shall not create an Account or access the Service if you are under the age of 13; You shall restrict use by minors, and you will deny access to children under the age of 13. You accept full responsibility for any unauthorized use of the Service by minors. You are responsible for any use of your credit card or other payment instrument (e.g. paypal) by minors.
You shall not (or attempt to) purchase, sell, rent or give away your Account, create an Account using a false identity or information, or on behalf of someone other than yourself; You shall not use the Service if you have previously been removed by Advent Village, or previously been banned from playing any Advent Village game.
You shall use your Account only for non-commercial purposes; You shall not use the Service to advertise, or solicit, or transmit any commercial advertisements, including chain letters, junk or spam e-mail or repetitive or misleading messages to anyone.
Login information and Your AccountYou may be required to select a password for your Account or you may also use other credentials to access the Account ("Login Information"). You shall not share the Account or the Login Information, nor let anyone else access your Account or do anything else that might jeopardize the security of your Account. In the event you become aware of or reasonably suspect any breach of security, including without limitation any loss, theft, or unauthorized disclosure of the Login Information, you must immediately notify Advent Village and modify your Login Information. You are solely responsible for maintaining the confidentiality of the Login Information, and you will be responsible for all uses of the Login Information, including purchases, whether or not authorized by you. You are responsible for anything that happens through your Account.Advent Village reserves the right to remove or reclaim any usernames at any time and for any reason, including but not limited to claims by a third party that a username violates the third party's rights.The Service supports only one Account per game on a supported device.License LimitationsAny use of the Service in violation of these License Limitations is strictly prohibited, can result in the immediate revocation of your limited license and may subject you to liability for violations of law.You agree that you will not, under any circumstances:Engage in any act that Advent Village deems to be in conflict with the spirit or intent of the Service or make improper use of Advent Village's support services.
Use or take part (directly or indirectly) in the use of cheats, exploits, automation software, bots, hacks, mods or any unauthorized third-party software designed to modify or interfere with the Service, any Advent Village game or any Advent Village game experience.
Modify or cause to be modified any files that are a part of the Service or any Advent Village game without Advent Village's express written consent.
Disrupt, interfere with or otherwise adversely affect the normal flow of the Service or otherwise act in a manner that may negatively affect other users' experience when using the Service or playing Advent Village's games. This includes win trading and any other kind of manipulation of rankings, taking advantage of errors in the Service to gain an unfair edge over other players and any other act that intentionally abuses or goes against the design of the Service.
Disrupt, overburden, or aid or assist in the disruption or overburdening of any computer or server ("Server") used to offer or support the Service or any Advent Village game environment.
Institute, assist, or become involved in any type of attack, including without limitation distribution of a virus, denial of service attacks upon the Service, or other attempts to disrupt the Service or any other person's use or enjoyment of the Service.
Attempt to gain unauthorized access to the Service, Accounts registered to others or to the computers, Servers, or networks connected to the Service by any means other than the user interface provided by Advent Village, including but not limited to, by circumventing or modifying, attempting to circumvent or modify, or encouraging or assisting any other person to circumvent or modify, any security, technology, device, or software that is part of the Service.
Post any information that is abusive, threatening, obscene, defamatory, libelous, or racially, sexually, religiously, or otherwise objectionable or offensive or engage in ongoing toxic behavior, such as by repeatedly posting information on an unsolicited basis.
Post any information that contains nudity, excessive violence, or offensive subject matter or that contains a link to such content.
Attempt to, or harass, abuse, or harm, or advocate or incite harassment, abuse, or harm of another person, group, including Advent Village employees, including Advent Village's customer service representatives.
Make available through the Service any material or information that infringes any copyright, trademark, patent, trade secret, right of privacy, right of publicity, or other right of any person or entity or impersonates any other person, including without limitation a Advent Village employee.
Reverse engineer, decompile, disassemble, decipher or otherwise attempt to derive the source code for any underlying software or other intellectual property used to provide the Service or any Advent Village game, or to obtain any information from the Service or any Advent Village game using any method not expressly permitted by Advent Village.
Solicit or attempt to solicit Login Information or any other login credentials or personal information from other users of the Service or any Advent Village game.
Collect or post anyone's private information, including personally identifiable information (whether in text, image or video form), identification documents, or financial information through the Service.
Advent Village reserves the right to determine what conduct it considers to be in violation of the rules of use or otherwise outside the intent or spirit of these Terms of Service or the Service itself. Advent Village reserves the right to take action as a result, which may include terminating your Account and prohibiting you from using the Service in whole or in part.1.2. Suspension and Termination of Account and ServiceWITHOUT LIMITING ANY OTHER REMEDIES, Advent Village MAY LIMIT, SUSPEND, TERMINATE, MODIFY, OR DELETE ACCOUNTS OR ACCESS TO THE SERVICE OR PORTIONS THEREOF IF YOU ARE, OR Advent Village SUSPECTS THAT YOU ARE, FAILING TO COMPLY WITH ANY OF THESE TERMS OF SERVICE OR FOR ANY ACTUAL OR SUSPECTED ILLEGAL OR IMPROPER USE OF THE SERVICE, WITH OR WITHOUT NOTICE TO YOU. YOU CAN LOSE YOUR USER NAME AND PERSONA IN THE SERVICE AS A RESULT OF ACCOUNT TERMINATION OR LIMITATION, AS WELL AS ANY BENEFITS, PRIVILEGES, EARNED ITEMS AND PURCHASED ITEMS ASSOCIATED WITH YOUR USE OF THE SERVICE, AND Advent Village IS UNDER NO OBLIGATION TO COMPENSATE YOU FOR ANY SUCH LOSSES OR RESULTS.WITHOUT LIMITING OUR OTHER REMEDIES, WE MAY LIMIT, SUSPEND OR TERMINATE THE SERVICE AND USER ACCOUNTS OR PORTIONS THEREOF, PROHIBIT ACCESS TO OUR GAMES AND SITES, AND THEIR CONTENT, SERVICES AND TOOLS, DELAY OR REMOVE HOSTED CONTENT, AND TAKE TECHNICAL AND LEGAL STEPS TO PREVENT USERS FROM ACCESSING THE SERVICE IF WE BELIEVE THAT THEY ARE CREATING RISK OR POSSIBLE LEGAL LIABILITIES, INFRINGING THE INTELLECTUAL PROPERTY RIGHTS OF THIRD PARTIES, OR ACTING INCONSISTENTLY WITH THE LETTER OR SPIRIT OF OUR TERMS OR POLICIES. ADDITIONALLY, WE MAY, IN APPROPRIATE CIRCUMSTANCES AND AT OUR SOLE DISCRETION, SUSPEND OR TERMINATE ACCOUNTS OF USERS WHO MAY BE REPEAT INFRINGERS OF THIRD PARTY INTELLECTUAL PROPERTY RIGHTS.Advent Village RESERVES THE RIGHT TO TERMINATE ANY ACCOUNT THAT HAS BEEN INACTIVE FOR 180 DAYS.Advent Village reserves the right to stop offering and/or supporting the Service or a particular game or part of the Service at any time, at which point your license to use the Service or a part thereof will be automatically terminated. In such event, Advent Village shall not be required to provide refunds, benefits or other compensation to users in connection with such discontinued Service
. Termination of your Account can include disabling your access to the Service or any part thereof including any content you submitted or others submitted.You may terminate your Account at any time and for any reason by following the process described on our support page located at https://support.Advent Village.com/ informing Advent Village that you wish to terminate your Account.2. Ownership2.1. Games and ServiceAll rights, title and interest in and to the Service (including without limitation any games, titles, computer code, themes, objects, characters, character names, stories, dialogue, catch phrases, concepts, artwork, animations, sounds, musical compositions, audio-visual effects, methods of operation, moral rights, documentation, in-game chat transcripts, character profile information, recordings of games played using a Advent Village game client, and the Advent Village game clients and server software) are owned by Advent Village. Advent Village reserves all rights, including without limitation, all intellectual property rights or other proprietary rights, in connection with its games and the Service.2.2. AccountsNOTWITHSTANDING ANYTHING TO THE CONTRARY HEREIN, YOU ACKNOWLEDGE AND AGREE THAT YOU SHALL HAVE NO OWNERSHIP OR OTHER PROPERTY INTEREST IN THE ACCOUNT, AND YOU FURTHER ACKNOWLEDGE AND AGREE THAT ALL RIGHTS IN AND TO THE ACCOUNT ARE AND SHALL FOREVER BE OWNED BY AND INURE TO THE BENEFIT OF Advent Village.2.3. Virtual ItemsAdvent Village owns, has licensed, or otherwise has rights to use all of the content that appears in the Service or in Advent Village games. Notwithstanding any provision to the contrary herein, you agree that you have no right or title in or to any content that appears in the Service, including without limitation the virtual goods or currency appearing or originating in any Advent Village game, whether earned in a game or purchased from Advent Village, or any other attributes associated with an Account or stored on the Service.3. User Content3.1. Submission of User Content"User Content" means any communications, images, sounds, and all the material, data, and information that you upload or transmit through a Advent Village game client or the Service, or that other users upload or transmit, including without limitation any chat text. By transmitting or submitting any User Content while using the Service, you affirm, represent and warrant that such transmission or submission is (a) accurate and not confidential or misleading; (b) not in violation of any laws, contractual restrictions or other third party rights, and that you have permission from any third party whose personal information or intellectual property is comprised in the User Content; (c) free of viruses, adware, spyware, worms or other malicious code; and (d) you acknowledge and agree that any of your personal information within such content will at all times be processed by Advent Village in accordance with its Privacy Policy.3.1.1. Content ScreeningAdvent Village assumes no responsibility for the conduct of any user submitting any User Content, and assumes no responsibility for monitoring the Service for inappropriate content or conduct. We do not, and cannot, pre-screen or monitor all User Content. Your use of the Service is at your own risk. By using the Service, you may be exposed to User Content that is offensive, indecent or otherwise not in line with your expectations. You bear all risks associated with the use of any User Content available in connection with the Service. At our discretion, our representatives or technology may monitor and/or record your interaction with the Service or communications (including without limitation chat text) when you are using the Service.By entering into these Terms of Service, you hereby provide your irrevocable consent to such monitoring and recording. You acknowledge and agree that you have no expectation of privacy concerning the transmission of any User Content, including without limitation chat text or voice communications.Advent Village reserves the right in its sole discretion to review, monitor, prohibit, edit, delete, disable access to or otherwise make unavailable any User Content (including without limitation your User Content) without notice for any reason or for no reason at any time. If at any time Advent Village chooses, in its sole discretion, to monitor the Service, Advent Village nonetheless assumes no responsibility for User Content and assumes no obligation to modify or remove any inappropriate User Content. We have the right, but not the obligation, in our sole discretion to edit, refuse to post, or remove any User Content.3.2. Information Use by Other Members of the Service3.2.1. Public DiscourseThe Service may include various forums, blogs and chat features where you can post User Content, including your observations and comments on designated topics. Advent Village cannot guarantee that other members will not use the ideas and information that you share. Therefore, if you have an idea or information that you would like to keep confidential and/or don't want others to use, do not post it on the Service. Advent Village shall have no responsibility to evaluate, use or compensate you for any ideas or information you may choose to submit.3.2.2. Responsible For Your Own ContentYou are solely responsible for the information that you post on, through or in connection with the Service and that you provide to others. Advent Village may reject, refuse to post or delete any User